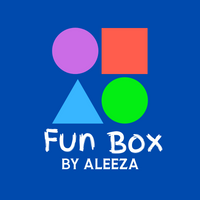 What is FunBox
FunBox is a startup by a young and creative girl named Aleeza and her Mom, who ran out of options to have Fun in real life outside of the screen. So, she came up with a combination of Fun Activities for different occasions, things that can be done together in groups, with family or simply alone. There is a FunBox for every situation, occasion and event you can think of in daily life. You think of a situation and we have a Box full of Fun waiting for you! And the most Amazing thing is that the Fun is all in Real Life not inside a mobile or computer screen!
We hope you enjoy our FunBoxes and have as much Fun with them as we have in creating them!
FunBox, Fun in Real Life!!
Never seen such a product in Pakistan. Its fun, engaging and entertaining. Good job team FunBox, it really is Fun!

Samra - Age: 14 yrs - Student
I ordered the Doodle FunBox for adults and have been hooked on it ever since. It's really Fun! I keep it in my office and use it to relax and focus when I am tired. Thank you FunBox!

Asad - Age: 32 - Professional
Funbox is not only fun for kids its also a lot of fun for Mommys! I do a lot of activities with the kids and have lots of fun together. Thank you FunBox :-) 

Laiba - Age: 36 - Mother